Luna Optics LN-DM50-HRSD
OK I am kind of PO'd
I bought a Pulsar 550R this year and am disappointed in the video quality and very very disappointed with it's built in recorder.
This device on paper looks to beat it out in spades!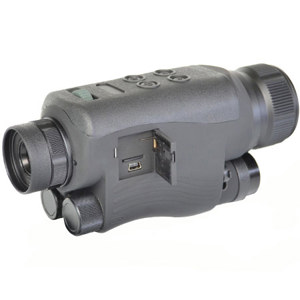 http://www.adorama.com/LODM50HRSD.html
or
http://www.sportsmansguide.com/net/cb/luna-optics-ln-dm50-high-resolution-digital-night-vision-viewer.aspx?a=1163767
Luna Optics LN-DM50-HRSD
Code: Select all

Technical Specs
CCD resolution / sensitivity: 1280x960 / 0.03lux (day) / 0.003lux (night)
LCD: 0.24" TFT 320x240
Image Resolution: Equivalent to 70lp/mm
Photo Resolution: 1.3MP (JPEG)
Video Resolution: HD720p (1280x720) (AVI)
Signal Output: PAL/NTSC
Memory: SD card (up to 32GB)
Optical Magnification: 5x
Digital Zoom: 4x
Objective Lens: f1.2/50mm
Field Of View: 6x4 degrees
Focusing Distance: 5m (16ft) to infinity
Recognition Distance: 250m (820ft)
Dimensions: 170mm/80mm/63mm (6.7"x3.1"x2.5")
Weight: 400g (14 Oz)
Power: 2x3V Lithium (CR123)
Operating Time: 5 hrs
Warranty: 1 year

USB and Video Cables
DC Wall Adapter
Built-in Tripod Mount

I knew I should of waited
.
Anyone want to try it out, please post your results. I have been depressed lately with the lack of innovative nv devices we can use...
Jim